Underground Euro Trip 2010
3rd - 7th September 2010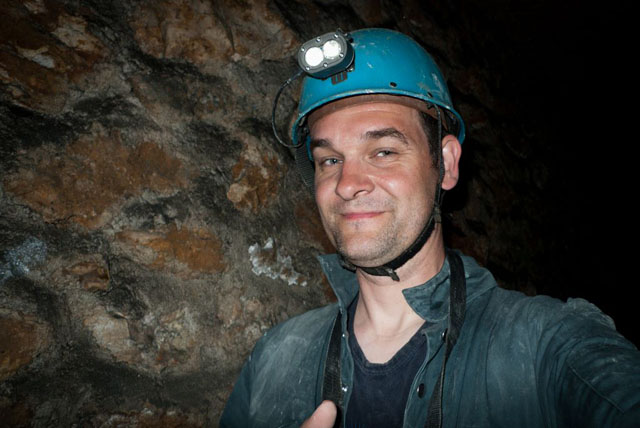 I joined three friends for a few days of underground adventure in France. We took the Euro Tunnel to Calais and headed towards our first destination, Puiselet Sand Mine, arriving at 3am. It took about 30 minutes to find the entrance which involved navigating over a sandy motorbike track. When we arrived we headed inside of what can only be described as a giant sand castle! We spent a couple of hours exploring before setting up camp underground and falling asleep. Being underground it's pitch black so we had no concept of time and we all over-slept until 1pm! When we exited the sound of motorbikes screaming around the sandy track filled the air and we had no choice but to walk across the tracks. The French are pretty cool and they just carried on racing around us!
For our next destination we were planning on being underground for up to 48 hous so we packed our bags with everything we'd need to be self sufficient for this time. The biggest problem was water as we needed to carry quite a lot but it was bulky and heavy. After an hour of packing and re-packing we were set to go and jumped in the car to head to the legendary Paris Catacombs. This was not a trip to the tourist destination, but to the 100's of kilometers of secret passages that lie beneath the streets of Paris. We waited for dusk then made our move, through holes in fences, down embankments, along railway lines, chased by dogs, avoiding junkiesand the police... just getting to the entrance was an adventure in itself, all in the heart of Paris. Once we got close we changed into our caving gear and walked for about half a mile down an abandoned train tunnel. A crawl followed and then a half hour walk though a five foot high passage filled to our bellies with stinking water. Realising we were being followed we dived off down a side passage, turned our lamps off, and waited in silence for 20 minutes. Noises got louder and louder and we wondered if the police were about to end our trip, (it has happened on previous trips), but eventually the footsteps passed and we completed our journey into the surreal subteranian underworld.
After a good night's sleep, only occasionally disturbed by nocturnal visitors, we sorted out our bags and headed off for more underground adventure.
Exiting was just as bizzare as entering, but sticking to the shadows ensured we weren't caught by the police and we were soon on the Metro getting strange looks from other passengers. A good meal followed and we spent the next couple of days visiting some bunkers opened to tourists around Calais. First up was La Coupole Nazi V2 rock base.
The following day we went to the Mimoyecques V3 super-gun bunker which was intended to shower London with bullets, but British bombers put it out of commision before it became operational. Naturally we ignored barriers to get into areas where the public weren't allowed!
Mimoyecques V3 Super-gun Bunker
It was a fantasic few days of underground adventure and certainly one of the most 'dodgy' things I've ever done!